'We were living in security and peace. These areas are being targeted, they want to force us to leave. Every Syrian is being targeted,' one Syrian religious leader told a delegation of reporters who visited Aleppo earlier this month.
–MintPressNews (on Facebook) (republished at: Global Research, SOTT)
In early November, Fares Shehabi, a member of the Syrian parliament from Aleppo, organized a trip to Aleppo for 13 Western journalists, including myself, with security provided by forces in the Syrian Arab Army.While I had traveled to Aleppo independently as recently as July and August, for many others in the delegation, it was their first visit to the city or their first visit since the war on Syria began in 2011.
On previous visits to Aleppo, I met with the Aleppo Medical Association and saw a maternity hospital hit twice by rocket and mortar attacks by militants under Jaysh al-Fatah (the Army of Conquest), a loose alliance of anti-government terrorist groups. I met with members of a branch of the Syria Civil Defense and Christian and Muslim religious leaders. Just north of the city, I visited Nubl and Zahraa, towns besieged for more than three years by the Free Syrian Army, the Nusra Front, and other affiliated terrorist factions before the Syrian Arab Army drove them out in February of this year. I saw the liberated region of Bani Zaid and the al-Layramoun industrial district. I interacted with civilians in public parks, streets, and markets.
Ahead of my trip earlier this month, I was interested to see what might have changed following the liberation of still more areas by the SAA. I also hoped to speak with civilians who had fled the terrorist-held areas of Aleppo's eastern districts since I had last visited, during which time eight humanitarian corridors had been established for civilians and members of terrorist factions willing to relinquish their arms or to accept safe passage to areas in Idlib and government-secured parts of western Aleppo.
However, on Nov. 4, no one fled terrorist-held areas of Aleppo. Family members of civilians still there say their loved ones are being used as human shields by groups like the Nusra Front, Ahrar al-Sham, or Nour al-Din al-Zenki — the so-called "moderate rebels" and "opposition forces" backed by the United States, NATO, Israel and Gulf allies like Saudi Arabia and Qatar.
Returning to Aleppo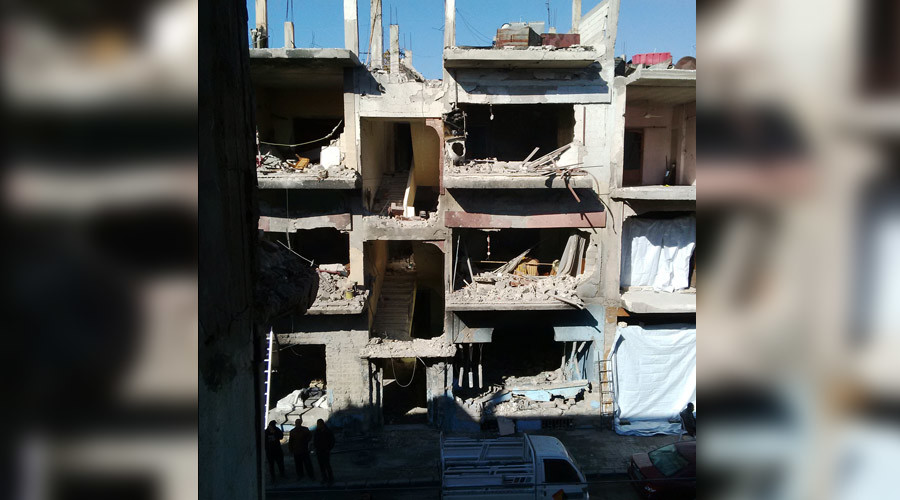 Homes opposite a terrorist car bombing blast in al-Zahra'a, Homs, Dec 12, 2015 © Eva Bartlett Russia Today
From Damascus, the bus traveled along smooth, paved roads to Homs, where we passed the entrance to Zahraa, a neighborhood plagued by terrorist car and suicide bombs. Moving out of Homs, we continued eastward along a narrow road for about an hour until we reached the Ithriya-Khanasser road, and the last leg of the trip to Aleppo.
Though the Ithriya-Khanasser road was flanked by the wreckage of buses and cars, attacked mostly by Da'esh (an Arabic acronym for the extremist group commonly referred to in the West as ISIS or ISIL) in recent years, and although Da'esh continues to creep onto sections of the road at night to lay mines, our travel there was without incident.
When I reached the southeastern suburb of Ramouseh in July, it was by taxi. The driver sped through the suburb, fearing Nusra Front snipers less than a kilometer away. He floored it for at least 500 meters, speeding through risky spots and weaving in and out of a valley in perfect range of terrorist shellings, ultimately reaching an SAA checkpoint before entering Greater Aleppo.
Castello Road was only means of entering Aleppo in August. The road, which runs into the northern part of the city, had recently been secured but still threatened by terrorist shelling.
Ramouseh was re-secured prior to our November visit, and again became the main means of entering Aleppo. In November, we traveled by bus, escorted by security, and the threat of snipers was weakened by SAA advances in recent months. Above the sniper embankment of barrels and sandbags, I had a clearer view toward Sheikh Saeed district — areas which terrorist factions had long occupied and from which they sniped and shelled Ramouseh.

*Ramouseh road when leaving Aleppo, Nov 2016.