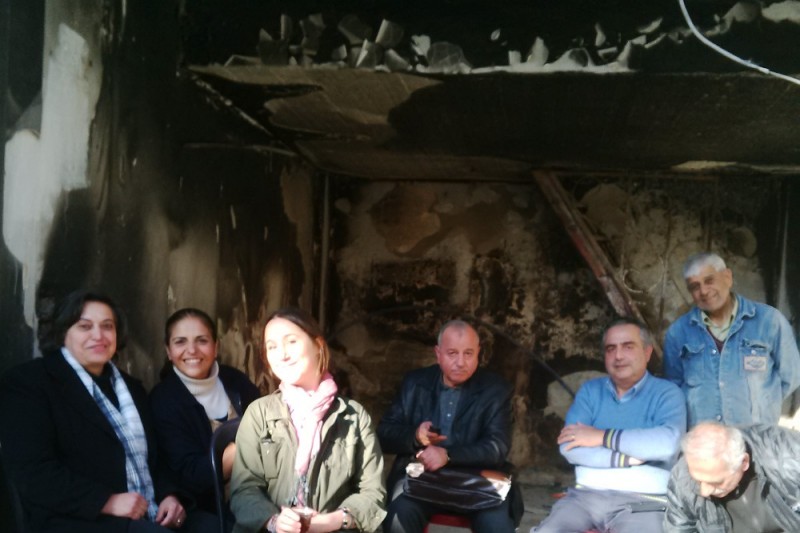 *photo: Resilience of Syrians, Old City of Homs, December 2015.
As many readers will know, I have visited Syria four times, between April 2014 and December 2015—independently on a journalist's visa and as part of two peace delegations. When in Syria as a writer, I visited key places—including liberated Homs and Ma'loula, terror-bombed regions of Homs, and the Yarmouk district, which has been focus of slick propaganda by anti-Syria corporate media and so-called human rights groups—and have conducted numerous interviews, with Syrian political and religious leaders, as well as Syrian civilians.
I have taken many photographs and videos, collected numerous personal testimonies, undertaken my own research and investigations, visited hospitals and refugee centres, and—in every area that I visited—have conversed with Syrians about what they feel is the cause of the problems in Syria, the solution, and on their insistence for Syria's sovereignty, and on their support for the Syrian Arab Army and their president.
In the months since my last trip, I have been transcribing interviews and testimonies and writing articles based on them, writing about my personal impressions based on my visits to Syria, and challenging the latest corporate media lies and propaganda campaigns.
I will be returning to Syria, as soon as possible, and for that I must ask for financial assistance to make this trip possible. [see:  Syrian Voices Book Project on GoFundMe ]
Why am I compelled to go to Syria?
In order to write a book that prioritizes Syrian voices from Syria: truths from some of the most highly-misrepresented, lied about or plainly ignored areas of Syria.
To do justice to the full spectrum of the stories of Syrians as told by them, it is essential that I visit areas I not previously been to, areas that have been liberated since I was last there and areas that are enduring especially egregious suffering—such as in Aleppo under terrorist bombs.